Est. de entrega
Est. coste de entrega:

£0.00
Police car with working flashing lights!
This battery powered, ride on electric car can be driven by the normal in-car controls by using the gearstick and pedal. The parental control can also be used to operate the car in forwards and reverse gears, and also turn the steering wheel left and right.
Opening doors - Realistic opening doors.
Two seater - This model is fitted with a double seat, suitable for two younger children, or one single older child.
Working front and rear suspension - Real working suspension!
2.4G Bluetooth Parental remote control - The car can be used with the in-car controls, using the pedal, forwards/reverse gear-lever and steering wheel, or can optionally be used remotely with the parental control. The parental radio remote can operate from up to around 20m away and controls forwards/reverse and moves the steering wheel left and right. The remote is a 2.4G Bluetooth type, so will not be subject to any interference.
MP3 player input - The car comes with a cable which plugs in to the dashboard, allowing an MP3 player or any other device with a headphones socket to be plugged in, and the music played through the car speaker. Plugging in a device disables the in-car sounds!
USB / SD Card input - The car also has slots on the dash allowing a USB device or SD card to play music played through the car speaker.
Steering wheel sounds - The steering wheel has a button that plays a horn sound, 'beep beep'!
Working lights - The blue/red flashing lights, and front headlights can be switched on and off using the dashboard switch, the rear lights illuminate in reverse.
Twin motors - Twin motors for each rear drive wheel means better performance on rougher surfaces or grass.
Horn and music sounds - Steering wheel activated horn and music sounds.
Battery meter - Dashboard mounted battery meter to indicate remaining playtime.
NOTE: This car is NOT suitable for two older children sitting together - check seat dimensions before purchasing!
Other Information
Parental Remote - Included (optional use), 2.4G Bluetooth
Suitable age range - 3-6 (or younger with full parental supervision)
Charge time - 14 hours for a full charge
Run time - Up to 1 hour from a full charge (depending on the type of use)
Battery type - 12V (1 x 12V 4.5Ah) lead acid
Motor type - 2 x 12V 35W
Maximum speed - 3.5km/h
Suitable operating surface - Firm, flat surfaces and flat lawns only
Dimensions - 110cm x 68cm x 52cm
Box size and weight - 110 x 58 x 37cm, 20Kg GW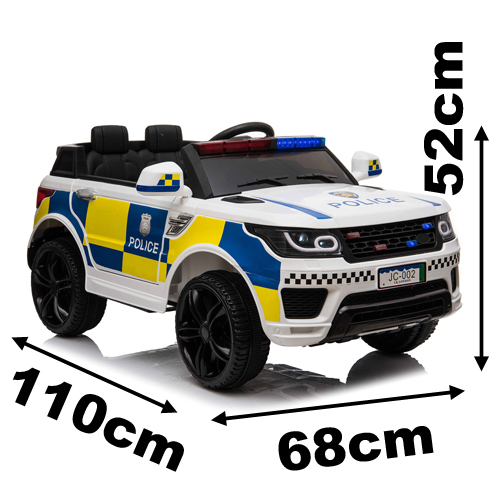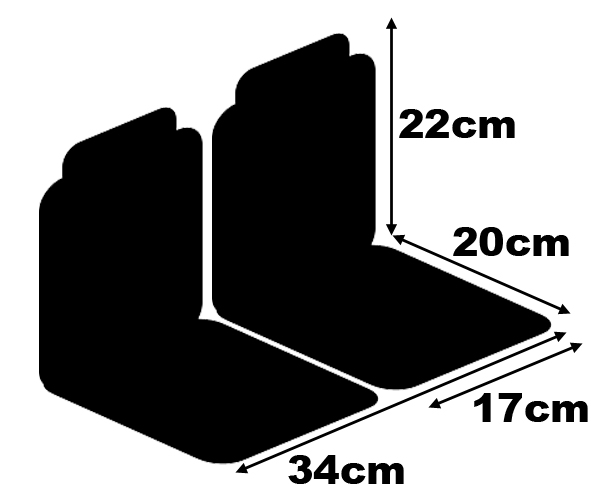 1 x Remoto Control
1 x Cable de conexión mp3
1 x Manual de usuario
1 x 12V Batería y cargador
1 x 12V Estilo Policia

Por los intereses de la seguridad de su niño, su seguridad y la seguridad de los demás debemos asegurarnos que usted entiende completamente la guía de recomendaciones de estos productos.

Su vehículo no debe funcionar en ninguna red pública de carreteras - como por ejemplo carreteras o aceras. El vehículo sólo se debe utilizar en propiedades privadas con el permiso del propietario.

Se requiere equipo de protección adecuado como por ejemplo casco de seguridad, rodilleras y coderas se deben usar en todo momento.

Niños deben estar bajo la supervisión de un adulto en todo momento cuando se utilize el vehículo. Es essencial para la seguridad de su niño que usted lea y siga todas las instrucciones del producto antes de su uso. Esto incluye información sobre la carga de la batería.

En caso de duda - por favor contacte para más información.